Crypto crash – a gift you shouldn't waste
---
Dear Reader,
There are two approaches to making money from the markets.
The well-trodden path. The path almost everyone seems to take. The one that grinds out a decent return over the course of a life. Safety first.
If you're patient, if you're willing to wait 30 or 40 years for a meaningful return on your capital… that is the path for you.
But there is another way, another path.
Past performance is not a reliable indicator of future results.
It's the way I have taken and it's the way that I have shown to a handful of other people. At time of writing they are looking at gains of 786%, 556%, 1,567% and 284% by taking this path with me.
I call it the desire line.
You've seen a desire line before, you have no doubt used one.
To explain what it is, take a look at this picture below…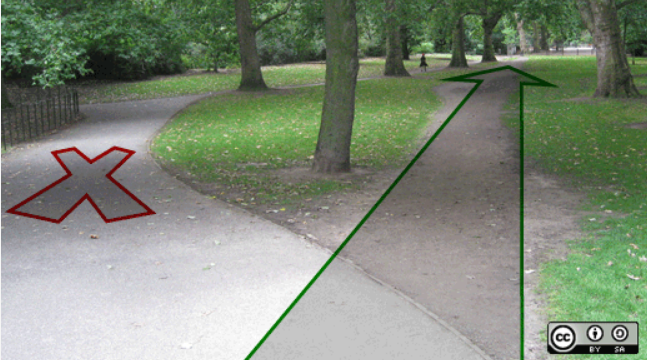 A desire line is created by those who want something different. The path set out by others is not for them. Usually the goal is to get somewhere quicker, more efficiently, in a way that works for you.
And, importantly, the desire line only exists because the crowd will it. It is created by sheer desire.
When trying to get your head around why the cryptocurrency boom has been so rampant… think of its searing rise as a powerful desire line.
The crypto boom tells us people are dissatisfied with a corrupted financial system… one that is ruled by an elite… one that simply doesn't work anymore.
Whether it's on the small scale like bank charges and tax traps… or the macro scale, like interest rates that eat your savings or bail-ins for banks that can't manage their own money…
Something has gone very, very wrong.
For years now central banks all over the world have been devaluing their national currencies.
Why? Because it lets them pay down their outrageous debts.
It's no good for you because it eats away at the money in your bank.
Of course, if you're a normal person the current system doesn't do you any favours. That's because you don't matter. No one cares if you get screwed by a system that favours the powerful.
"Stuff you", they seem to be saying, "what can you do about it anyway?"
Little by little the historically low pound, low rates and creeping inflation suck the lifeblood out of your financial life.
That's the path they want for you.
The crypto revolution is the desire line out of that mess.
And it is unstoppable.
No matter what the mainstream financial industry want you to think… the below chart says it all. This new market is the greatest act of wealth creation mankind has ever known…

Source: Coinmarketcap.com
Past performance is not a reliable indicator of future results
Yes there have been ups and downs along the way. On Tuesday the market went through a mini-massacre – you can see that in the huge dip at the end. But look at the trajectory. Look at the overall rise.
More than $100m gets floods into bitcoin every 30 minutes or so. New coins launching to market generate hundreds of millions in funding in a matter of hours.
Yes there is wild speculation. Yes there is a touch of mania about it. But the unstoppable momentum behind the rise in cryptos shows an overwhelming desire for a new financial system.
Past performance is not a reliable indicator of future results.
And over the last 12 months, we have seen some outrageous gains firing out as investors flood to cryptos:
Ripple is up over 15,000%
Litecoin is up 4,145%
NEO is up over 61,000%
Stellar is up 14,892%
Prices recorded 17 January 2018
Back in 2014, on live US TV, the hosts more or less laughed when I said bitcoin was headed skyward. And many more will laugh when I tell them it will clear $100k a coin.
But those that laugh hardest of all, I believe, won't be the sceptics or the knee-jerk naysayers.
It will be the courageous investors who see which way the wind is blowing and stick £100, £300, £5,000 in the crypto market – whatever they can afford to lose.
Those that have followed my lead write to me nearly every day. Just like this chap: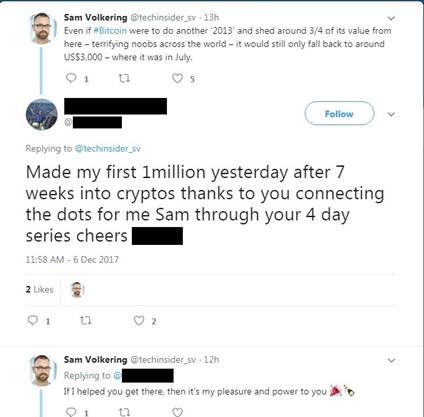 Ordinary people like the fellow above are putting themselves in the running for a potentially life-changing return from this financial 'desire line'.
I've written a special guidebook on crypto investing. It reveals why the crypto revolution has only just begun… how to buy and store your cryptos using the same secure methods I use… plus I explain why bitcoin is not my number one pick in the erupting crypto market.
You'll get details of one coin I believe could surge 49,000% from here on out.
That kind of move could turn a £1k stake into nearly half a million quid.
Yes this is a risky market. You bet it is. But by staking no more than you can comfortably afford to lose, you're not putting yourself in any trouble. If you stake £300 quid you're not going to miss and you lose it, that's that. At least you have taken your financial destiny in your own hands.
But if this plays out as I believe it could… your £300 could swell into £147k.
If you're willing to take on that risk, let me show you how you could take full advantage of the single biggest financial eruption in history.
Because not only can you claim a copy of my new book, I've also arranged for you to get a series of very valuable crypto investing material, including:
A special report from world renowned trader and investor Eoin Treacy called "My #1 strategy for profiting from cryptocurrencies'
An exclusive video guide I have put together to show you how to buy cryptos from an exchange and store them securely in a digital wallet
Don't look back in 12 months' time and think to yourself "I wish I took the plunge, I wish I had got in when it was all so cheap".
I saw this image below trawling through a crypto thread on the forum Reddit. I don't know where it's from or who photoshopped it, but it sums up how I see the future for bitcoin, and the crypto revolution…
Dips are just happy little accidents: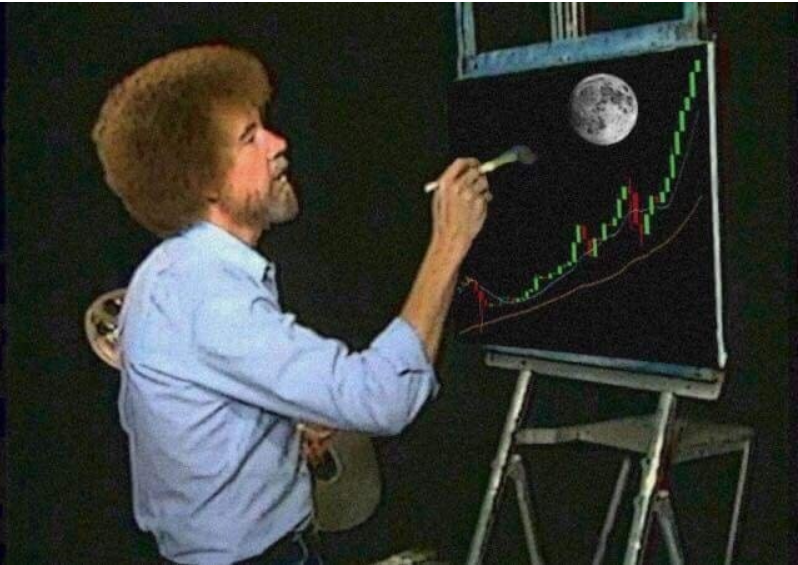 Source: reddit.com
Dips like we saw yesterday are a gift, they let you buy in at a price you may never see again.
Use what I believe is a short-term chance to get in on cryptos at a never-to-be-repeated discount. BEFORE they go to the moon.
Sam Volkering
Southbank Investment Research